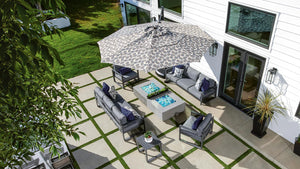 4 Things to Look for in a Quality Patio Umbrella
---
Outdoor patio umbrellas are an essential part of any outdoor space, and they can make a big difference in your comfort level. Not only do they provide shade from the sun's harmful UV rays, but they can also help to keep you cool (and keep the party going) on hot, hot days.
But with so many different patio umbrellas to choose from, it can be tough to know where to start. That's why we put together this guide to help you find the perfect patio umbrella to fit your needs.
Here's Your Checklist:
Shade Protection ✔
The most important factor to consider is the type of shade protection the umbrella offers.
Cheap, poorly made umbrellas have a thin sheer fabric that does little to protect you from the sun.
Our umbrellas feature a canvas-like, solution-dyed fabric that blocks out 95% of UV rays, or higher. It's a difference you can truly feel.
Tilting Mechanism ✔
A tilting mechanism is a great way to adjust the angle of the umbrella to keep the sun out of your eyes.
Look for an umbrella with a tilt mechanism that allows you to tilt the canopy up to 90 degrees.
That way, when your long afternoon siestas last a few hours, you can pivot your shade and keep the sun's harmful rays at bay.
Quality Fabrics ✔
When choosing a patio umbrella canopy, look for a quality performance material with at least a 4-year warranty.
Solution-dyed acrylics, like Sunbrella, are almost always your best option. They're water-resistant, mildew-resistant, fade-resistant, and easy to clean.
Frame Construction ✔
We recommend an umbrella with an aluminum frame because they're durable, rustproof, lightweight, and strong.
Wooden frames often do not have a tilt mechanism and may need additional maintenance to prevent mold or mildew.
Aluminum frames are powder coated before getting a final finish coat of paint, creating a robust finish that's fade resistant.
Without the shade of an outdoor umbrella, your deck or patio can quickly turn from relaxing to sweltering. So, forget the sunscreen and hand fans - keep your outdoor space cool and comfortable this Summer with a shade solution from Outdoor Home in Nixa. Our patio umbrellas are built for residential or commercial use and offer performance and style you can rely on for many years to come.
---