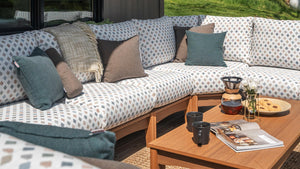 5 Outdoor Living Trends (that are here to stay)
---
Timeless style is eternal…but that doesn't mean we don't follow the most exciting industry trends!
Variety is the spice of life, as they say.
Keep your outdoor space "au courant" with these five important outdoor living trends that are here to stay.
Trend #1: The Outdoor Room
Yes, your home has room to grow! You can gain a spacious addition without spending a penny on construction by embracing your outdoor space as an extension of indoor space.
Comfort, function and personality, when combined, create exceptional interior design. Take these same design tenants outdoors, and watch the rest fall into place.
Trend #2: Everyday Luxury
It's been said that time is life's only true luxury. (Throw in a glass of champagne, and we'll gladly agree.) Current outdoor trends underscore the 'stress-less, enjoy-more' mentality, as homeowners invest in outdoor furniture that combines timeless styling and durability.
High-quality furniture is a wise purchase that's enjoyable season-after-season and year-after-year. If your 2023 wishlist includes a relaxing outdoor oasis, we're here to help.
Trend #3: Inspired by Travel
Jetsetters take note - one of 2023's hottest outdoor trends is influenced by travel. With skyrocketing airfare, and the hassle of scheduling travel, homeowners are opting to create their little slice of heaven right at home.
There's no need to take your PTO; outdoor furnishings can make any weekend at home or after-dinner drink feel like an exciting escape. It will be waiting just our your back door.
Trend #4: Outdoor Accessories Upgrade
Express yourself! It's never been easier to find outdoor accessories with personality. If your outdoor style is a little bland, why not resolve to spice things up in 2023? Add unique outdoor accents like poufs, lanterns, dishware, occasional seating, and performance pillows into the mix.
Trend #5: World of Wellness
From juice cleanses to spin classes, there are a million ways to get healthy in 2023. Call us old-fashioned, but we prefer to unwind with all-natural remedies - family, food, and fresh air.
Creating an outdoor wellness space is all in the details. Think about adding pillows, blankets, rugs, or decorative plant stands. Remember, you don't need a large backyard to create your own sanctuary. Your outdoor space is meant to be a source of enjoyment and refuge; an escape you can truly enjoy.
---