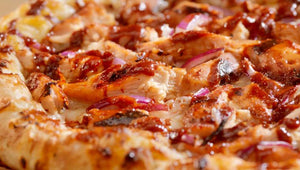 BARBECUE TURKEY PIZZA
---
Need ideas on what to do with your left over turkey? This pizza recipe is perfect for transforming it to something unique and delicious!
Ingredients
1 pound of pizza dough
¾ cup Big Green Egg Sweet & Smokey Kansas City Style Barbecue Sauce
1½ cups turkey, cooked and chopped
1 small red onion, chopped
1 small green pepper, chopped
1 garlic clove, minced
1¼ cup shredded mozzarella cheese
½ cup shredded cheddar cheese
¼ cup grated Parmesan cheese
Instructions
Set the EGG for indirect cooking at 400°F/204°C. Add a Pizza & Baking Stone to preheat.
Roll dough into a 14-inch circle and build up the edges slightly.
Spread barbecue sauce over crust. Layer with half of the turkey, onion, green pepper, garlic and cheese. Repeat the layers. Bake at for 25-30 minutes or until the crust is golden brown.
Serves 8
---