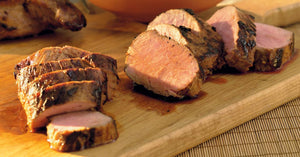 BEER MARINATED PORK TENDERLOIN
---
Grill up a couple of beer-marinated pork tenderloins for your next BBQ. The sweet yet tangy marinade keeps the pork moist and flavorful. Top it with a colorful, smoky, charred corn relish for an easy, delicious way to feed a crowd.
Recipe adapted from Cabot Cheese. For more information, visit cabotcheese.coop
Ingredients
2 pork tenderloins (about 2 pounds total)

Marinade Ingredients
1 (12-ounce) bottle Ale

½ cup maple syrup

¼ cup fresh lime juice

2 tablespoons olive oil

1 tablespoon Dijon mustard

3 cloves garlic, minced

1 teaspoon salt

½ teaspoon freshly ground black pepper

Instructions
In bowl, whisk together marinade (ingredients below); pour into large plastic zip-close bag and add pork tenderloins, turning to coat. Let marinate in refrigerator for 8 hours or overnight.

Remove tenderloins from marinade, shaking off excess.

Set EGG for direct cooking at 500°F/260°C.

When hot, place tenderloins directly over heat, turning ¼ turn until browned on all 4 sides, 2 to 3 minutes per side.

Transfer tenderloins to a V-rack or raised grid; close dome of EGG and continue cooking until the tenderloins are slightly pink in the center (145°F/63°C). Remove from EGG and let rest for 5 minutes for juices to settle. Cut tenderloin into thick slices and serve with Charred Corn-Cheddar Relish (recipe below).

Relish Ingredients
1 ½ cups fresh corn kernels (or frozen corn kernels, thawed)

½ cup finely diced jarred roasted red bell peppers

½ cup finely diced Cabot Sharp Cheddar

¼ cup chopped fresh cilantro or parsley

2 tablespoons olive oil

1 tablespoon fresh lime juice

¼ teaspoon salt

⅛ teaspoon freshly ground black pepper

Relish Instructions
Place large nonstick or cast-iron skillet on EGG. When skillet is hot, add corn and cook, stirring occasionally, until corn is nicely browned, about 2 minutes (be prepared for some to pop out of skillet).

Transfer corn to bowl. When cool, add remaining ingredients and combine well. Serve spooned on top of sliced pork.

Makes 8 servings
---