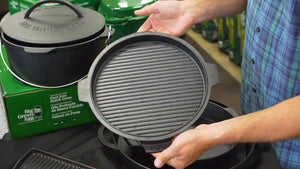 Benefits of Cooking with Cast Iron on Your Big Green Egg
---
Doesn't matter if you're cooking #Steak, #Fish, or #Chicken, you know everything tastes #BetterOnAnEGG, but did you know it will taste EVEN BETTER with Cast Iron?
That's right! Cast Iron is an efficient heat conductor and has the power to pull flavor out of your foods that you'd never find otherwise.
For perfect sear marks, utilize the superior heat conductivity of the Dual-Sided Cast Iron Cooking Grid. But that's not all... we also have Cast Iron Dutch Ovens, Plancha Griddles, and Skillets to use in your #BigGreenEgg for everything from seared steaks and seafood, braised meats and casseroles to gratins, cornbread, biscuits and cobblers.
The possibilities are endless when you're cooking on your Big Green Egg with cast iron!
#BGENation
#EGGhead
#BGE
#EGGhead4life
---