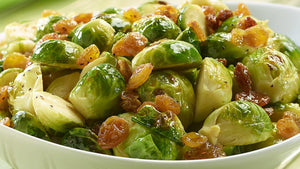 BRUSSELS SPROUTS WITH GOLDEN RAISINS
---
Recipe adapted from Better Than Bouillon. For more information about Better Than Bouillon, visit betterthanbouillon.com.
Ingredients
2 pounds Brussels sprouts, trimmed

1⁄2 cup golden raisins

4 ounces melted butter

1 tablespoon sugar

1⁄2 tablespoon Better Than Bouillon® Seasoned Vegetable Base

1⁄4 cup water

1⁄2 teaspoon black pepper, ground

Instructions
Set EGG for indirect cooking (with convEGGtor) at 400°F/204°C.

In a bowl, mix butter, sugar, Seasoned Vegetable Base, water, and black pepper.

Add Brussels sprouts and raisins, and stir.

Put mixture in a Stir Fry and Paella Pan.

Place pan directly on EGG, stirring occasionally to glaze the Brussels sprouts while cooking.

Cook for 10-12 minutes or until fork-tender.

Serves 4
---