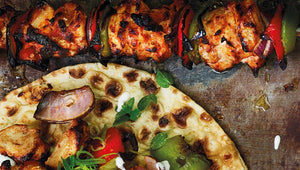 BUTTERMILK CHICKEN SHISH KEBAB
---
Buttermilk Chicken Shish Kebab with quick lemon pickle & oregano. Kebab or cis – skewered pieces of cubed meat – is commonplace to all the cuisines across the Levant and the Middle East. Most chicken shish kebabs will use breast meat, which is lean but lacks the juiciness and flavor of thigh meat. This recipe uses thigh meat, but feel free to use whichever you prefer.
INGREDIENTS
BUTTERMILK CHICKEN SHISH KABOBS
3oz buttermilk
½ tsp ground cumin
¼ tsp cayenne pepper 1 tsp sweet paprika
¼ tsp ground cinnamon 2 garlic cloves, minced
2 tbsp Garlic Oil or olive oil
1 tbsp hot red pepper paste
grated zest and juice of 1 lemon 1 tsp salt
¼ tsp coarse ground black pepper
½ onion, sliced
8 chicken thighs, deboned, skinned and quartered
2 green pepper, deseeded and cut into chunks
2 red pepper, deseeded and cut into chunks
red onion, peeled and quartered 4 thin metal skewers
FOR GARNISH AND SERVICE
pitas or flatbread
tbsp olive oil or Garlic Oil, plus extra to brush
1 tbsp thinly sliced spring onion 1 tbsp picked oregano leaves
12 Confit Garlic Cloves 1 tbsp Quick-preserved Lemon
Pickle
Toum (Garlic Sauce)
Middle Eastern Slaw
METHOD
For the Buttermilk Chicken Shish:
Put the buttermilk, spices, garlic, garlic oil, hot red pepper paste, lemon zest and juice, salt, pepper, and onion in a bowl and stir together to combine.
Add the chicken pieces to the marinade and massage the mixture into the chicken to ensure it's evenly distributed and well coated. Cover the bowl and leave in the fridge for 4–6 hours or preferably overnight.
To Finish the Chicken:
Skewer the chicken pieces intermittently with the red and green pepper and the red onion.
Set your EGG up for direct grilling at 400°F – ensuring that you are cooking on medium-hot embers. Grill the skewers directly over the burning coals, turning frequently to ensure both sides are well colored and the chicken is cooked all the way through when checked with a knife.
Brush the pitas or flatbreads with a little olive oil mixed with a few drops of water, and warm through briefly on the grill. They can be placed directly on top of the skewers if there isn't sufficient room in the barbecue.
To Garnish and Serve:
Remove the pitas and transfer to a serving platter. Place the skewered chicken thighs atop, brushed with olive oil. Scatter the spring onion and oregano leaves liberally over the skewers, along with the confit garlic cloves and lemon pickle.
This kebab is great served with garlic sauce, Middle Eastern Slaw and pickles of choice.
---