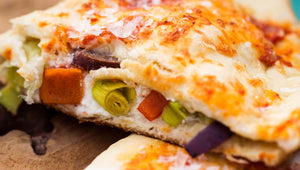 CALZONE PIZZA ONIONS, PEPPERS & BEEF SAUSAGE
---
Just as you can prepare a pizza with all sorts of toppings, you can fill your calzone with all sorts of ingredients. In this recipe, we use green onion, peppers, red onion and beef sausage for the filling. Briefly grilling the ingredients on the Big Green Egg in advance will add a ton of extra flavor to the dish!
INGREDIENTS
1 green onion
1 red pepper
½ red onion (left over from the basic sauce)
1 beef sausage
5 tbsp ricotta
2 oz Parmesan cheese
1 large dough base
basic pizza sauce
2 oz grated cheese
1 tbsp olive oil
METHOD
For the filling: While you prepare the basic sauce, place the green onion, cut in half width-wise, and a red pepper (next to the red onion for the sauce) between the glowing charcoal. Roast the vegetables for about 10 minutes with a closed lid until cooked, and make sure they blacken on all sides by turning them regularly. Take the vegetables from the EGG, allow the green onion to cool and put the pepper in an oven dish, covered with aluminium foil, for 10 minutes. This will make it easy to remove the skin from the pepper. Place the Stainless Steel Grid in the EGG and increase the temperature to 200°C.
In the meantime remove the blackened outside leaves of the green onion and the skin, stalk and seeds from the pepper. Cut half the green onion, a quarter of the pepper and half of the red onion (left over from the sauce) in small pieces (the remaining green onion and pepper can be used for another pizza but are also delicious in a salad, for instance).
Place the beef sausage on the grid and grill until done and nicely browned. Slice the sausage. Mix the ricotta with half of the Parmesan cheese and season with freshly ground pepper and a generous amount of salt.
Lightly sprinkle the Calzone Press with flour and place a rolled-out dough base on it. Place the filling on one half of the base: First spoon the ricotta on the dough, and scatter the slices of beef sausage and the chopped vegetables over this. Sprinkle with freshly ground black pepper, sea salt and the mature cheese. Brush the edge of the dough with the olive oil. Close the Calzone Press with a single flowing motion and press down well. Remove the Calzone from the press and make a small hole in the top with your finger, so any steam can escape. Spoon the sauce on the Calzone and spread it with the underside of a spoon, and sprinkle with the remaining grated Parmesan.
Sprinkle the Baking Stone with flour or cornflour before placing the pizza on it using the Aluminum Pizza Peel. Close the lid of the EGG and bake the pizza for about 12-14 minutes until done. Maintain a temperature of 250 °C for this. The Calzone does not have to be turned.
---