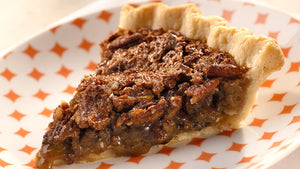 CHOCOLATE BOURBON PECAN PIE
---
Pecan pie is a typical Southern dish made from corn syrup, brown sugar, and pecans and is often served on holidays. This traditional pie filling has a touch of bourbon and combines with dark chocolate morsels. It is perfect for a fall dinner or winter holiday dessert and would be especially good served after a turkey dinner.
Ingredients
1 cup dark corn syrup

3 large eggs, beaten

5 Tbsp unsalted butter, melted

1 cup firmly packed light brown sugar

¼ cup bourbon

2 Tbsp all-purpose flour

1 cup semisweet chocolate chips

1 cup chopped pecans

1 (9-inch) pie shell

Instructions
Set the EGG for indirect cooking with the convEGGtor at 400°F/204C°.
Using a wooden spoon, mix the corn syrup, eggs, butter, brown sugar, bourbon, and flour in a medium bowl until combined.
Add the chocolate and pecans and blend well.
Pour the filling into the pie shell.
Place the pie plate on the convEGGtor.
Close the lid of the EGG and bake for 45 minutes, or until the filling is set and the pie is golden brown.
Remove the pie and let cool completely, then refrigerate.

Whipped Cream Ingredients
1 cup heavy cream

½ cup confectioners' sugar

½ tsp vanilla extract

Whipped Cream Instructions
To make the whipped cream, using a whisk or an electric mixer, beat the cream, confectioners' sugar, and vanilla for 5 minutes, or until light and fluffy.
Serve slices of pie garnished with the whipped cream or pass separately. 

Serves 6 to 8
---