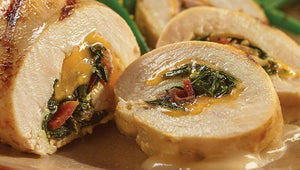 COUNTRY CHICKEN SALTIMBOCCA
---
Recipe courtesy of Deborah VanTrece via the 2018 Big Green Egg Lifestyle Publication
Ingredients
(3) 8oz chicken breasts
4 C cleaned and destemmed collard greens
6 slices cooked applewood-smoked bacon, crumbled
2 tbsp EVOO
2 cloves garlic, minced
3 slices aged cheddar cheese
Seasoning Mix
1 tbsp garlic powder
1 tbsp onion powder
1 tsp white pepper
1 tbsp seasoning salt
Basic Cream Sauce
4 tbsp butter
4 tbsp flour
2 C half-and-half
Reserved liquid from chicken
1 tbsp smoked paprika
6 basil leaves
Method
Set the EGG for indirect cooking with the convEGGtor at 350°F.
Pound chicken breast until 1/4 in thick. Mix all seasoning ingredients together; coat chicken breast with 3/4 of the seasoning mix; set aside.
Chiffonade collard greens into strips no wider than 1/4 in thick. Heat a Cast Iron Skillet with the olive oil. Add greens, then garlic and the remaining seasoning mix, cooking until wilted, 5-7 minutes.
Lay out the chicken breasts with the interior side up. Layer each in the following order: one slice of cheese, 1/3 of the bacon crumbles, 1/3 of the cooked collards.
The bacon and collards should be placed in a thin even layer across the whole breast.
Beginning at the short tapered end, roll up each chicken breast as you would for a jellyroll and secure with a toothpick.
Place rolls in a roasting & drip pan, evenly spaced with room between each roll. Place the pan on the grid and bake for 15-20 minutes or until the chicken is firm.
Remove from the EGG and allow to rest for at least 5 minutes.
Remove the chicken from the pan; reserve the liquid for the sauce. Remove the convEGGtor and grill each side of the chicken for 1 minute for color and added flavor. 
Gently slice each roll into pinwheels, no less than 1/2 in wide and top with sauce.
Basil Cream Sauce Method
Melt butter in a sauce pan. Whisk flour into butter. Cook for 90 seconds once incorporated, continuously whisking.
Slowly add half-and-half, whisking in each addition until incorporated into flour mix.
Season to taste.
Add the reserved chicken liquid the same way.
Add smoked paprika and cook at a low simmer for 2 minutes, or until it's at the thickness you desire; remove from heat.
Chiffonade basil, add to warm sauce just before serving.
---