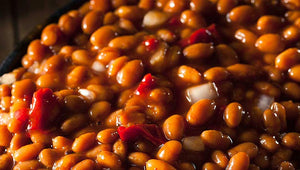 COWBOY BEANS
---
Ingredients
½ pound bacon, diced
1 pound lean ground beef
½ cup yellow onion, diced
¼ cup ketchup
¼ cup Sweet & Smoky Kansas City Style Big Green Egg Barbecue Sauce
½ cup packed brown sugar
2 tbsp molasses
1 tbsp Big Green Egg Ancho Chile & Coffee Seasoning
2 tbsp apple cider vinegar
1 tsp salt
1 tsp pepper
2 tbsp yellow mustard
1 (16-ounce) can pork and beans
1 (16-ounce) can butter beans, drained
1 (16-ounce) can kidney beans, drained
1 (16-ounce) can pinto beans, drained
Instructions
Set the EGG for direct cooking without the convEGGtor at 350°F/177°C.
Cook the bacon in the Big Green Egg Cast Iron Dutch Oven until crispy. Remove the bacon. Cook the ground beef until browned. Add the onion and cook until tender.
Add the ketchup, barbecue sauce, brown sugar, molasses, Ancho Chile & Coffee Seasoning, apple cider vinegar, salt, pepper, mustard, all the beans, and cooked bacon. Mix together.
Bake for 1 hour. Remove from the EGG and enjoy!
---