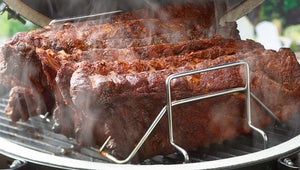 DR. BBQ'S ALL ACES BABY BACK RIBS
---
INGREDIENTS
3 slabs pork loin back ribs, about 6 pounds total
1 cup apple juice
1 cup Big Green Egg KC Style Sweet & Smoky Barbeque Sauce
1 cup Big Green Egg Vidalia Onion Sriracha Barbeque Sauce
Rays Rub Ingredients
1/4 cup raw sugar
3 tablespoons kosher salt
3 tablespoons paprika
2 tablespoons chili powder
1 teaspoon granulated onion
1 teaspoon granulated garlic
1 teaspoon cayenne
Rays Rub Instructions
Pour all ingredients into a bowl and mix.
METHOD
Set the EGG for indirect cooking at 300⁰ adding cherry wood for smoke flavor. Peel the membrane off the back of the ribs. Season the ribs liberally on all sides with Ray's Rub. Let the ribs rest for 10 minutes so the rub will get tacky, then place in a rib rack and cook for two hours.
Lay out three double sheets of heavy duty aluminum foil. Place a slab on each meaty side up. Fold up the edges and add 1/3 cup of apple juice to each packet. Put the ribs back on the EGG and cook for 1 hour or until tender when poked with a toothpick.
When the ribs are tender to your liking, remove from foil and return to EGG meaty side down. Combine the two sauces and mop/brush the ribs with a liberal coating. Cook for 15 minutes. Flip the ribs and brush the top of the ribs with sauce. Cook for 15 minutes. Brush with a second coat of sauce. Cook for 30 minutes until the sauce is set. Remove to a cutting board and cut each slab into 3 even pieces.
Makes 9 servings.
---