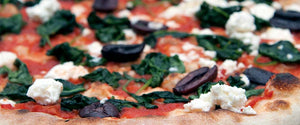 EL GRECO PIZZA
---
Ingredients  Print
1 tbsp (15 ml) olive oil




1 garlic clove, minced




2 cups (85 g) fresh spinach




1⁄4 cup (60 ml) marinara sauce




1⁄2 (55 g) mozzarella cheese, shredded




1⁄3 cup (50 g) feta cheese, crumbled




1⁄3 (65 g) Kalamata olives, pitted and halved




1 thin crust pizza dough round of your choice



Instructions
Set the EGG for indirect cooking (with the convEGGtor) at 550°F/288°C.




In a Stir-Fry & Paella Pan or sauté pan, heat the olive oil, minced garlic and fresh spinach. Toss the spinach around in the oil until it wilts enough to be managed with a spoon. Remove from the EGG and set aside.




Add a Pizza & Baking Stone and preheat approximately 20 minutes prior to baking.




On a Dough Rolling Mat, roll the dough to 1⁄4 inch (6 mm) thick; transfer it to a heavily floured Pizza Peel. Use a spoon to evenly spread the marinara sauce around the dough.

Next, spread the cooked spinach over the sauce; sprinkle evenly with the shredded mozzarella and olives.




Move the dough to the Pizza & Baking Stone and bake for approximately 5 minutes.

Remove the pizza from the EGG when the crust is crisp and evenly browned.

Sprinkle immediately with crumbled feta cheese.

Allow to cool for one minute before slicing to serve.



---