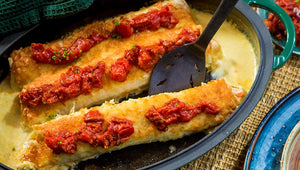 ENCHILADAS w/ CHORIZO SAUCE
---
This enchilada recipe is just one of the many ways to fill a tortilla wrap. Enchiladas are traditionally served with a tomato sauce, which is given a surprising and very tasty twist in this recipe through the addition of chorizo. You can vary the filling to suit your taste by adding your favorite ingredients. 
INGREDIENTS
TORTILLAS
1 cup chicken stock
4 tortilla wraps
3/4 cup whipping cream
4oz grated cheese
FILLING
1 red bell pepper
Half a chicken, cooked and shredded (you could use leftovers from a beer can chicken or a highway chicken)
½ -1 red chili pepper
1 tsp chipotle sauce
3 heaping tbsp salsa verde
SAUCE
5oz of chorizo
1 tin of chopped tomatoes (14oz)
1 tsp dried thyme
½ tsp ground cumin
PREPARATION
Ignite the charcoal and set up your EGG for direct grilling at 400°F. Meanwhile, for the filling place the bell pepper on the grid and grill until the skin is blackened all over, turning occasionally. Chop the chorizo for the sauce into cubes of approx. 5 mm.
Remove the bell pepper from the EGG and leave to cool slightly. Meanwhile, heat the Cast Iron Skillet – Small on the grid. Add the chorizo cubes and close the lid of the EGG. Fry the chorizo for several minutes, stirring occasionally.
Add the chopped tomatoes, thyme, ground cumin, and salt and pepper to taste and heat the sauce for a few more minutes. Meanwhile, remove the skin, stalk, and seeds from the bell pepper. Chop the flesh finely and place in a bowl or dish. Remove the Cast Iron Skillet from the EGG and set the sauce aside. Lift the grid, place the convEGGtor in the EGG and then return the grid. Reheat the EGG to a temperature of 400°F.
For the filling, add the cooked chicken to the bell pepper. Remove the stem and seeds from the chili pepper. Chop the flesh finely. Add to the bowl or dish together with the chipotle sauce and the salsa verde and mix the ingredients thoroughly.
Heat the chicken stock until lukewarm and pour into a shallow bowl. Dip the tortillas one by one in the stock for a few seconds to moisten them slightly. Spoon a quarter of the filling onto the lower part of each tortilla and roll them up.
Pour about 100 ml of the whipping cream into the lid of the Green Dutch Oven (Oval). Lay the rolled up tortillas in the cream and sprinkle with the grated cheese. Pour over the rest of the whipping cream. Place the lid with the enchiladas on the grid and close the lid of the EGG. Leave the enchiladas to cook for about 30 minutes.
Remove the enchiladas from the EGG and reheat the sauce in the EGG. Spoon the sauce over the enchiladas and serve.
---