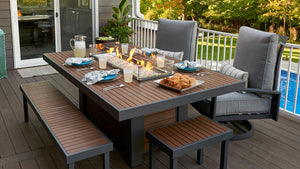 Everything You Need To Know About Fire Tables
---
Warmth, Light, and Ambiance
As the days get longer and the nights get warmer, many of us are looking for ways to create a cozy and inviting outdoor living space. One increasingly popular option is the fire table. Fire tables are essentially dining or coffee tables with built-in fire pits that provide warmth, light, and ambiance to any outdoor space.
They come in various shapes and sizes and are available in numerous materials and fuel types. Who doesn't love spending time around the fire with friends and family? They are the perfect solution for anyone looking to create a warm and welcoming outdoor gathering spot.
What are Fire Tables?
Fire Tables are essentially dining or coffee tables with built-in fire source that add the magical glow of dancing flames to your space. They come in a range of sizes and shapes, from small and round to large and rectangular, and are often made of materials such as aluminum, stainless steel, or concrete.
Fire tables can be fueled by propane, natural gas, or even wood, depending on your preferences and available resources. One of the great benefits of fire tables is that they can be used year-round, providing a cozy and inviting spot to gather even on cool autumn or winter evenings.
Choosing the right Fire Table
Choosing the right fire table for your outdoor space can be daunting, but several key factors should be considered. First and foremost, it's important to determine the appropriate size and shape based on the size of your outdoor living area and the number of people who will be using the table.
Fuel type is also an important consideration, with propane and natural gas being more convenient options, while wood-burning fire tables require more maintenance. Additionally, heat output and BTU ratings should be taken into account, as well as cost and budget.
Enhancing the Experience
Once you've chosen the right fire table for your outdoor space, there are many ways to enhance your experience. One popular option is to add fire glass or lava rock, which can give your fire table a unique and stylish look. To improve functionality, you can also invest in fire table accessories like covers, wind guards, and cooking grates.
To create a cozy outdoor living space around your fire table, consider adding comfortable seating, outdoor lighting, and decor like throw pillows or blankets. With a little creativity and attention to detail, your fire table can become the centerpiece of your backyard, providing a warm and inviting space for family and friends to gather and relax.
Fire Table Safety
Safety is crucial when it comes to any fire feature. It's important to clear the area of any flammable objects, and proper maintenance/storage is also important to prevent accidents. The best practice is to keep them covered and out of the elements when not in use.
Enjoy Every Second In Your Backyard
A Fire Table adds a cozy and inviting outdoor living space that you and your loved ones can enjoy all year round. Head to our showroom today and we'll help your pick out the perfect one for your backyard.
---