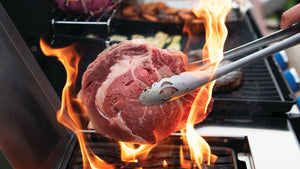 Find A Grill That Fits Your Lifestyle
---
It's that time of year again... Grilling Season!
There's something magical about standing outside, cooking up a tasty meal and being surrounded by family and friends.
But when it comes to grilling, there's one important thing to remember:
Your GRILL needs to fit your LIFESTYLE.
Let's quickly break it down ↓
There are key differences in each type of grill that will cater to your unique needs and elevate your backyard cooking game.
Pellet Grills
If you love the convenience of set-and-forget cooking, our pellet grills are a perfect match. These grills use natural hardwood pellets to give you consistant heat and your meat a rich, smoky flavor that's hard to resist.
Here's a Pellet Grill we think you'll love ↓
Louisiana Grills Black Label 1200
A bold reimagination of pellet grilling. Experience upscale designs, premium technology upgrades, and intelligent control with built-in WIFI and Bluetooth. Maximized airflow, hotter temperatures, and boundless grilling creativity await with the Black Label 1200.
SHOP BLACK LABEL
Gas Grills
Want something incredibly convenient? Gas grills are easy to start and heat up quickly, meaning you'll be crankin' out burgers, steaks, and brats in no time. With consistent heat and temperature control, you'll be able to adjust heat levels and cooking methods on the fly.
Here's a Gas Grill we think you'll love ↓
Napoleon Prestige PRO 665
With features you don't see on the most grills, this gas grill boasts 5 60,000 BTU main burners, an Infrared Rotisserie Burner and an Infrared Sizzle Zone Burner! With this Napoleon gas grill you'll get all the bells n' whistles and the power to put dinner on the table quickly.
SHOP NAPOLEON
Charcoal Grills
For the traditionalists who crave authentic summertime flavor, a charcoal grill is the only way to go. By adjusting the air vents, you'll have full control over temperature, so you can sear a steak, cook a low n' slow brisket, roast a turkey on thanksgiving, or bake a crispy pizza on the weekend.
Here's a Charcoal Grill we think you'll love ↓
Large Big Green Egg
From pizzas to ribs, steaks to salmon, a Big Green Egg is the cooking machine your menu is craving. With easy start-up, precise temperature control, and a lifetime warranty, it's the perfect outdoor cooker to enhance your experience.
SHOP BIG GREEN EGG
Griddles
With its large cooking surface and precise heat control, a Gas Griddles helps you effortlessly prepare multiple dishes at once, catering to all friends and family at the same time. With a griddle you can take flavor with you everywhere; at the campsite, at the tailgate party, or even down at the lake.
Here's a Gas Griddle we think you'll love ↓
4-Burner Ultimate Griddle
These units are aesthetically qualified to be the centerpiece of your backyard cooking arrangement, while also being flexible enough to hit the road and handle your cooking needs wherever you go.
SHOP GRIDDLES
Still Want More?
These aren't the typical barbecue pit you buy down at the local hardware store. We only carry brands that hold the highest standards in performance and durability so you can enjoy the perfect grill for years to come.
SHOP GRILLS & SMOKERS
---