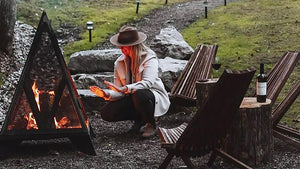 Fire Pit Inspiration You've Been Missing
---
MAKE YOUR YARD THE ENVY OF THE NEIGHBORHOOD
Whether you already have a fire pit, are looking to get one or just need some fresh backyard inspiration, you probably have some questions on how to best utilize your outdoor space.
We've pulled together 3 of our top backyard styling tips to help you make your outdoor living dreams come true!
---
Tip #1
DEFINE THE PURPOSE OF YOUR SPACE
Before you start divvying up your space, take a moment to think about how you truly want to use it.
Do you love to wine and dine outside?
Then why not make a fire-table and dining chairs the star of the show?
Are you all about those cozy nights, huddled around the fire?
In that case, position a robust fire pit front and center for everyone to enjoy!
Is family fun your top priority?
Then you should look for ways to block off a large open space and put everything else around it.
Remember, this is your space to play with, so don't be afraid to get creative and make it your own!
Tip #2
DESIGN WITH THE LONG-TERM IN MIND
Let's introduce a crucial a principle: the balance of where you are now and where you're going.
For example, maybe right now you need a spot for the kiddos to run around, but down the road you want to be able to host outdoor dinner parties.
So, before you finalize anything, ask yourself some important questions: Will you still love this layout in 5 or 10 years? What changes will you need to make if you don't? And, what cool features could you add later on?
By keeping these questions in mind, you'll be able to create a plan that works for you now and in the future. And, by planning ahead, you'll save yourself time and money in the long run.
Tip #3
FIND WHAT "SPARKS JOY" IN YOUR OUTDOOR SPACE
As we mentioned earlier, considering what your space will be used for (and by whome) is important... but even more important is ACTUALLY ENJOYING your outdoor space.
If your current patio furniture no longer gives you a sense of peace, transquility, and comfort, what's keeping you from switching it up? Whatever your backyard condition may be, if it's not fitting your current lifestyle or has gotten outdated over time, a change is in order.
Work With Our Patio Professionals
Outdoor spaces are more important today than ever before. People crave fresh air and warm sunshine, and we love how time outside leaves us both relaxed and invigorated.
At Outdoor Home, you'll find a wide selection of the finest outdoor furniture and a team of patio professionals that want to help you transform your space into a personal outdoor oasis.
---