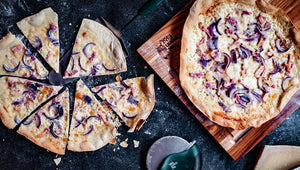 Flammkuchen (German Pizza) on the Big Green Egg
---
Ingredients
Dough Base
2 3/4 cups (white) durum flour + extra for dusting
1 1/2 tsp dry yeast
1 1/2 tsp salt
7 oz water
2 tbsp sunflower oil
Topping
2 red onions
7 oz crème fraîche
9 oz bacon strips
1/2 cup grated Parmesan cheese
In Advance
Put all of the ingredients for the base in a food processor with a dough hook. Leave the machine to run for about 15 minutes until the dough is flexible and cohesive.
Wrap the dough in cling film and let it rest for 20 minutes at room temperature.
Meanwhile, ignite the charcoal in the Big Green Egg and heat with the convEGGtor, the grid and the Baking Stone to 475°F. For the topping, peel the red onions, cut into quarters and then into strips.
Method
Divide the dough into 6 pieces of the same size and roll each piece of dough into a little ball. Lightly dust your worktop with flour and roll out one of the dough balls as thinly as possible.
For the topping, brush the base with one sixth of the crème fraîche, leaving an edge of about 1 inch. Top with one sixth of the onions and the bacon and sprinkle with a generous tablespoon of Parmesan cheese.
Dust the Aluminium Pizza Peel and the Baking Stone with flour. Place the Flammkuchen on the Baking Stone using the pizza peel and close the lid of the EGG. Bake the Flammkuchen for about 8 minutes until golden brown and crispy. In the meantime, you can roll out the next Flammkuchen base and add the topping.
Remove the Flammkuchen from the EGG using the peel and cut into slices using the Compact Pizza Cutter. Bake the remaining Flammkuchen in the same way.
---