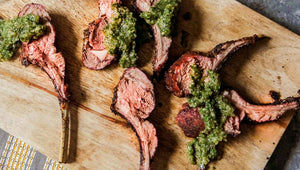 GRILLED RACK OF LAMB w/ CHILI LIME SALSA
---
Recipe adapted from Jess Pryles of Hardcore Carnivore
INGREDIENTS
2 lamb racks, 6-8 bones
3-4 tablespoons Hardcore Carnivore Camo seasoning
2 large limes
2 sweet onions, peeled & roughly chopped
1 serrano chili, deseeded
4 oz mint leaves
salt to taste
METHOD
Start by making the salsa:
Cut the limes in half, and place cut side down in a dry skillet over a medium-low flame. Do not move the limes once they are in the pan. You are going to char the lime to develop flavor and sweetness, and loosen the juice. The lime will initially stick to the pan, but release when the surface is charred, about 10-15 minutes. Once charred, remove from the pan and allow to cool slightly.
In a blender, combine the shallots, serrano and mint. Add the juice of the charred limes. For extra lime flavor, use a microplane to zest the skin into the blender, too.
Blend until smooth, add salt to taste. If the paste it too thick you can add a small amount of water to loosen.
Light your EGG, and use the EGGspander set up for two zone cooking. 
Season the lamb racks on all sides with the Hardcore Carnivore Camo rub, then place directly over the coals. Sear for 2-3 minutes per side to develop color and crust, then move to the indirect or cool side to finish cooking.
Use a thermometer to check the internal temperature of the lamb. When it hits 135-140 degrees, remove from the heat and loosely tent with foil to rest for 10 minutes.
To serve, slice the racks into individual chops, and serve with the salsa.
---