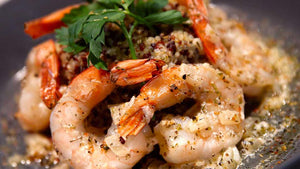 GRILLED SHRIMP OVER QUINOA
---
Do you love shrimp cocktail? Then you'll love this Grilled Shrimp with white wine Citrus & Dill Sauce grilled on the Big Green Egg.
Recipe courtesy of Amanda Egidio, Big Green Egg Culinary Center
Ingredients
1 lb shrimp, 16/20 size, peeled and deveined

¼ cup olive oil

¼ cup lemon juice

3 tbsp fresh chopped parsley

Coarse salt and freshly cracked pepper

Instructions
Set the EGG for direct cooking without the convEGGtor at 450°F/232°C.

In a large, non-reactive bowl, stir together the olive oil, lemon juice, parsley, salt and black pepper. Add shrimp and toss to coat. Marinate in the refrigerator for 30 minutes.

For the sauce: In a small saucepan, heat the wine and shallots over medium-high heat until reduced to 2 tablespoons, about 12-15 minutes. Turn off the heat and gradually add each cube of butter into the reduction, whisking after each

addition. Add the Citrus & Dill Sauce Seasoning, and season with salt as desired. Whisk in the lemon juice and set sauce aside.

Place the shrimp on a lightly oiled Perforated Cooking Grid and cook for 2 to 3 minutes per side, or until opaque. Serve the shrimp drizzled with the sauce over quinoa or rice.

White Wine Citrus & Dill Sauce Ingredients
1 cup dry white wine

1 cup shallots minced

½ cup unsalted butter, cut into ½ inch cubes, chilled

1 tbsp Big Green Egg Citrus & Dill Sauce Seasoning

1 tbsp fresh lemon juice

---