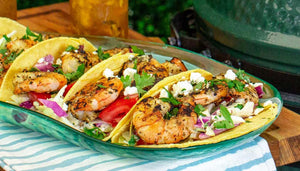 Grilled Shrimp Tacos on the Big Green Egg
---
FOR THE SHRIMP TACOS
Set the EGG for direct cooking without the convEGGtor at 400°F/204°C with a cast iron grid in place.
In a large bowl, combine the olive oil and shrimp. Sprinkle liberally with the Big Green Egg Citrus and Herb seasoning until evenly coated. Using the Big Green Egg All Natural Bamboo Skewers, skewer the shrimp and place the shrimp on the EGG. Cook for about 2 minutes, flip and cook another 2 minutes. Remove shrimp from the EGG once firm and pink. Remove the shrimp from the skewers.
Place the tortillas on the EGG and grill until warm. Remove from the EGG.
Fill each tortilla with the slaw, and top with 3-4 grilled shrimp. Squeeze fresh lime juice over the top and garnish with crumbled Cojita cheese and cilantro.
FOR THE SLAW
Combine all of the slaw ingredients into a medium bowl, mix well and set aside.
FOR THE SHRIMP TACOS
1½ lbs. of large shrimp peeled, deveined with tail removed
1½ tbsp olive oil
1 tbsp Big Green Egg Citrus and Herb Seasoning
2 fresh limes, cut into quarters
1/3 cup chopped cilantro
½ cup crumbled Cotija cheese
6 corn tortillas
FOR THE SLAW
1 16 oz bag of coleslaw mix
1 jalapeño pepper, seeded and chopped thin
2 garlic cloves, minced
½ cup mayonnaise
½ cup chopped cilantro
½ tsp ground cumin
½ tsp fine sea salt
¼ tsp freshly-cracked black pepper
3 green onions, just the green parts, sliced
½ lime, juiced
---