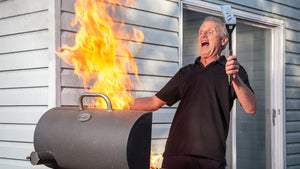 Grillin' Dad Gift Guide for Father's Day
---
This year, elevate Dad's grilling passion with a sleek cooking machine, unforgettable flavors, and unique BBQ tools that enhance his outdoor cooking game. Do this, and you'll make it more than a gift – it's an invitation for Dad to relax, unwind, and bond over a meal he created.
The Perfect Grill for a Dad that enjoys the craft of cooking.
With a Big Green Egg, Dad will quickly become a steak-slingin', rib smokin', pizza bakin' master and think of you every time he steps in front of the grill. We carry all 7 EGG sizes and 200+ EGGcessories, so the possibilities (and gift ideas) are endless.
SHOP EGG PACKAGES
Our Top-Selling EGGcessories sure to elevate his EGGsperience!
The Perfect Grill for a Dad that wants push-button perfection.
With a Pellet Grill, Dad can effortlessly grill, smoke, roast, and bake, allowing him to explore a wide range of recipes and flavors. The precise temperature control ensures consistent results, while the push-button convenience suits his busy schedule. If durability is important, these rigs can withstand any weather condition and will elevate his cooking game for many years to come.
SHOP PELLET GRILLS
Our Top Pellet Grill Accessories sure to give him a boost!
The Perfect Grill for a Dad that enjoys an effortless experience.
Enhance Dad's weekend barbecues with a Gas Grill that offers convenience, quick heating, and precise temperature control. He'll enjoy the effortless setup and cleaning, allowing him more time to savor the delicious grilled, seared, roasted, and smoked dishes he's able to prepare (and share).
SHOP GAS GRILLS
Our Top Gas Grill Accessories sure to upgrade his grilling game!
The Perfect Grill for a Dad that enjoys the tradition of barbecue.
Help Dad embrace the ritual of grilling and create unforgettable meals with a Charcoal Grill. A traditional charcoal grill offers durability and versatility that are ideal for all his cooking endeavors. He'll experience the satisfaction of building a fire and the world of flavors that follow.
SHOP CHARCOAL GRILLS
Our Top Charcoal Grill Accessories sure to light his fire!
The Perfect Grill for a Dad that enjoys grilling on the go.
Most Dads would love to take their grill with them wherever they go. With a Gas Griddle, he can do just that. With its large cooking surface, he can effortlessly prepare multiple dishes during a tailgate, at the campsite, or even down at the lake.
SHOP GRIDDLES
Our Top Griddle Accessories sure to light his fire!
Still Want More?
These aren't the typical barbecue pit you buy down at the local hardware store. We only carry brands that hold the highest standards in performance and durability so you can enjoy the perfect grill for years to come.
SHOP GRILLS & SMOKERS
---