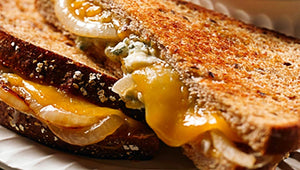 GROWN UP GRILLED CHEESE
---
This zesty cheese combo takes grilled cheese to a whole new level. Caramelized onions add extra zest plus a note of sweetness.
Recipe courtesy of Nature's Own Bread. For more information, visit naturesownbread.com.
Ingredients
8 slices Nature's Own Premium Specialty 12-Grain Bread
1 sweet onion, halved, thinly sliced
2 1⁄2 tablespoons butter, divided
1 tablespoon vegetable oil
1 teaspoon brown sugar
1⁄2 cup crumbled blue cheese (2 oz)
1 cup shredded sharp Cheddar cheese (4 oz)
1 cup shredded Swiss cheese (4 oz)
Instructions
Set EGG for indirect cooking at 350°F.
Cook onion in 1⁄2 tablespoon of the butter and the oil in large nonstick skillet until softened, stirring occasionally. Stir in brown sugar and cook until browned and very tender, stirring occasionally. Set aside.
Meanwhile, in medium bowl, combine cheese; mix well. Spoon and spread cheese mixture on 4 bread slices. Top with onions and remaining 4 bread slices.
Heat Half Moon Griddle, or wipe out skillet and heat EGG to 300°F/149°C.
Lightly butter tops of sandwiches with half of the remaining butter. Place butter side down on griddle; cook 2 to 3 minutes or until golden brown. Butter tops of sandwiches and turn to toast other side, 2 to 3 minutes.
Makes 4 servings
---