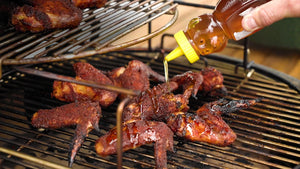 Honey-Glazed Smoked Chicken Wings on the Big Green Egg
---
An all-out guilty pleasure, these slow-smoked, mouth-watering honey-glazed chicken wings are a crowd favorite.
Moist on the inside, perfectly caramelized and crispy on the outside, these wings make for an easy appetizer that can be devoured as a main course.
For a start-to-finish rundown on temperature, timing, seasoning tips, and more, check out the video below and tackle your next set of Wings with confidence!
---