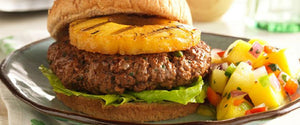 ISLAND BURGER & FRUIT SALSA
---
Recipe and photo courtesy of Laura's Lean Beef. For more information, visit LaurasLeanBeef.com.
Ingredients
1 pound Laura's 92% Lean Ground Beef or 96% Lean Ground Beef
1 teaspoon freshly grated ginger
1 clove garlic, minced
2 tablespoons finely chopped purple onion
2 tablespoons finely chopped fresh cilantro
2 teaspoons finely chopped and seeded jalapeno
1 tablespoon pineapple juice
2 teaspoons low-sodium soy sauce
Whole wheat buns (optional)
Sliced fresh pineapple rings, grilled (optional)
Instructions
Combine first 8 ingredients in a large mixing bowl. Shape into 4 equal size burgers.
Coat the EGG cooking grid with cooking spray. Grill direct at 400°F / 204°C) 5 to 7 minutes on each side or until desired degree of doneness.
Place patties in a large skillet or grill pan over medium-high heat; cook 8 to 10 minutes on each side or until done.
serve with fruit salsa, grilled pineapple and/or basmati rice.
Makes 4 servings.
---