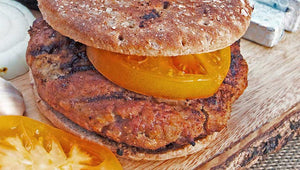 LENTIL TURKEY BURGERS
---
Ingredients
1 lb ground turkey (very cold)
Red Split Lentils, prepared
½ tsp salt
½ tsp black pepper
Bou Java Rub
Instructions
Thoroughly combine all ingredients. Divide the mixture into 6 equal portions and form into ½ inch thick patties. If desired, season with BOU Java Rub.
Grill 6 minutes each side (remember, this is poultry – the internal temperature must get to 165°F/74°C).
Serve on a grilled whole wheat bun with Dijonnaise, lettuce, tomato and red onion.
Red Split Lentils Ingredients
½ cup red split lentils (soaked for 3 hours)
1 BOU Beef or Chicken Broth Cube
1 cup water
Red Split Lentils Instructions
Crumble the BOU cube in a sauce pan; add the water and blend with a whisk to mix the cube into the water.
Add the soaked red lentils; bring to a boil.
Lower to a simmer and cook for 4-5 minutes (lentils will be al dente).
Pour into a bowl, cover and cool completely under refrigeration.
Bou Java Rub Ingredients
2 Chicken Bouillon Cubes
¼ cup espresso coffee, finely ground
2 tbsp lemon zest, finely grated
½ cup brown sugar
2 tbsp sea salt
1 tbsp granulated garlic
1½ tsp coriander, ground
3 tbsp chipotle chili powder
2 tbsp black pepper, freshly ground
3 tbsp smoked paprika
1 tsp roasted cumin, ground
1½ tbsp unsweetened cocoa powder
1 tsp dry mustard
1½ tbsp ancho chili powder
---