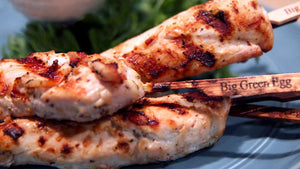 MARINATED CHICKEN KABOBS
---
Chicken Kebabs, a backyard favorite is marinated with our Citrus & Dill Seasoning and grilled directly on the Big Green Egg over our Natural Lump Charcoal!
Ingredients
½ cup olive oil

2 tbsp Big Green Egg Citrus & Dill Seasoning

2 tsp salt

¼ tsp ground black pepper, or to taste

1 tsp lemon juice

5 boneless, skinless chicken breasts, cut into 1-inch cubes

Instructions
Set the EGG for direct cooking without the convEGGtor at 400°F/204°C.

In a medium bowl, stir together the olive oil, seasoning, salt, pepper and lemon juice; let stand for 5 minutes. Add the chicken to the bowl and stir to coat with the marinade. Cover and refrigerate for 30 minutes. Combine sauce ingredients together and chill in the refrigerator for 15 minutes.

Thread chicken onto skewers and discard marinade. Lightly oil the cooking grid. Grill skewers for 8 to 12 minutes or until the chicken is no longer pink in the center and the juices run clear. Serve with the Creamy Citrus & Dill Sauce on the side.

Serves 4
Creamy Citrus & Dill Sauce Ingredients
½ cup sour cream

½ cup yogurt

Big Green Egg Citrus & Dill Seasoning, to taste

Squeeze of lemon, optional

---