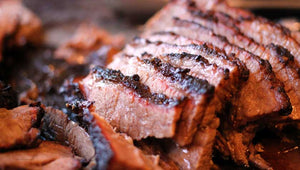 MELT-IN-YOUR-MOUTH BRISKET
---
Melt In Your Mouth Brisket is a recipe which will appeal to both the novice and experienced outdoor chef alike. Flavorful and succulent brisket in half the time . . . Enjoy!
Ingredients: 
6-7 lb. flat-cut brisket (Have butcher leave the fat on the bottom)
Outdoor Home Steak & Roast Rub 
1 can/bottle of warm beer (My preference is Bud. Any beer will do as long as it hasn't been opened and left sitting out on the coffee table from last night's party)
2 cups sugar (Again, my preference is white. However, if you prefer the molasses taste like the used oil drained out of the car then go for brown).
1 large onion (Slice about 1/4in thick so tears will run down your face. Good time to have something in your eye).
Smoking woods (I like to use hickory mixed with peach, pear, apple or...you get the idea, any fruit wood).
Aluminum foil (Is this an ingredient???)
Instructions
After getting brisket home, sprinkle generously with Ultimate Steak & Roast Rub. All sides now, not just on top! Then pat all over with hand like gently spanking baby's butt.
Next, coat the season laden brisket with sugar. Again, cover all sides. No cheating, use it all! It'll look like a newly fallen snow on a hunk of meat, but that's OK.
After taking your snow scene pictures, place brisket in a covered container. You could also rewrap it in the butcher paper it came in but don't forget to put plastic wrap on it so the meat doesn't leak all over the fridge. 
Leave in the fridge for at least 4-8 hrs. If you planned ahead, overnight is even better. 
If you're cooking on the Big Green Egg, set your temp at or around 240°F. If using a gas grill, place on medium-low setting using the indirect cooking method. 
Remove meat from container or wrapping and discard liquid. All your snow has melted but that's ok. It's supposed to do that. 
Next, sprinkle on a little more Ultimate Steak & Roast Rub (we need the business). 
Then, with fat side down, (remember the butcher was supposed to leave a layer of fat on the bottom of meat) place on your grill. 
Add your smoking woods and smoke for two hours. 
Next, tear off some foil big enough to cover and seal the meat in. Do this again (2 layers are better than one). 
Next, lay foil on a solid surface by the grill. 
Remove meat from fire and lay on foil. Bring edges of foil up around the meat to form a crude bowl. 
NOW, open a beer and drink about 1/3 of it and pour the rest in with the meat. 
You know the onions you cried about, throw them on top of the brisket. 
Take the foil, one layer at a time, and seal up the meat.
Oh, yes...I forgot! While you are doing the above foil thing, start lowering your Egg temperature to about 180-190 degrees (gas grill should be set on low). 
Cook for at least another 3 hours. 
I know you're not supposed to get a brisket tender in just 5 hours. But, trust me, your tongue will slap your mouth silly.
---