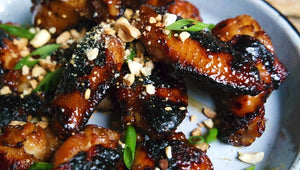 PEANUT BUTTER & JELLY WINGS
---
INGREDIENTS
2lb chicken wings - separated into wingettes and drumettes.
4 tbsp strawberry jelly
2 tbsp peanut butter
1 tsp Sambal (an Asian chili and garlic paste that is available from most grocery stores)
2 tbsp Worcestershire sauce
2 tbsp brown sugar
2 tsp paprika
1/4 cup salted, roasted peanuts
2-3 shallots, chopped
salt to taste
METHOD
Place the chicken into a large zip-top bag, and season well with salt.
In a bowl, mix together the jelly and peanut butter. Add in the sambal, Worcestershire, brown sugar and paprika, and mix thoroughly, then pour contents into the bag, making sure the chicken is well coated.
Place the bag in the fridge, allowing the chicken to marinate for at least 2 hours, or preferably overnight.
Heat a gas or charcoal grill to medium heat. The ambient temperature of the grill should be at between 350-400 degrees.
Place the chicken on the grill, turning every 2-3 minutes. This should allow the color to develop without burning before the chicken is cooked all the way through. Continue to turn until the pieces are nicely brown with charred areas. Remove from grill and place on a tray to cool slightly.
Place peanuts in a zip-top bag, and gently crush them using a rolling pin or meat tenderizer (or similar). It helps to put a towel under the bag so it's a little less noisy, and it doesn't slide.
Arrange wings on a serving plate. Sprinkle the crushed peanuts and chopped shallots over the wings, and serve immediately. You may want to keep a few wet naps on hand!
---