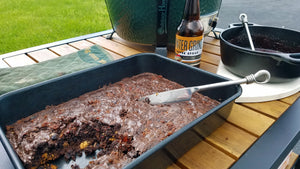 Peanut Butter Bacon Beer Brownies on the Big Green Egg
---
Salt, sweet, and a hint of smoke in each delicious bite, these moist, dark fudge brownies have the allure of crunchy bacon bits and creamy peanut butter — what a tempting combination! All cooked on the Big Green Egg!
INGREDIENTS
1/2 lb thick-cut bacon (cooked until crisp)
1/2 cup Brown Sugar
1 tbsp Cornmeal
1 box 13x9 size Brownie Mix
2 Eggs
1/2 cup Vegetable Oil
1/3 cup DARK TRUTH Imperial Stout 
(for brownie mix)
1/3 cup Peanut Butter Chips
3/4 cup chopped Candied Bacon
3 tbsp Butter
1/2 cup DARK TRUTH Imperial Stout 
(for sauce)
1 cup Dark Chocolate Chips
2 tbsp Corn Syrup
INSTRUCTIONS
Set-up your EGG for indirect cooking at 350°F.
PBBB Brownies
Mix together brownie mix, eggs, oil, and chocolate stout until creamy.
Stir in peanut butter chips, and pour into greased 9x13 cake pan.
Sprinkle with cooked bacon and bake for 30-40 minutes until the center is set and a toothpick comes out clean.
Let cool.
DARK TRUTH Imperial Stout Fudge Sauce
Melt butter, stir in the chocolate stout and corn syrup and bring to a boil.
Remove from heat and add in chocolate chips.
Stir until melted, and cool before serving.
---