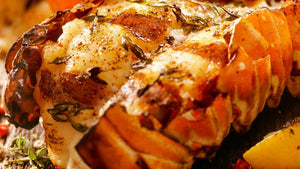 PERI PERI LOBSTER
---
Ricky Taylor is an American racing driver, most notably in the IMSA Weathertech Sportscar Championship. His career highlights include an IMSA Series Championship in 2017, as well as marquee wins at the Daytona 24, 12 Hours of Sebring and Petit Le Mans. Currently, Taylor races with Helio Castroneves in one of two new Acura ARX-05 fielded by Roger Penske in the IMSA Weathertech Sportscar Championship.
"Here is my Peri Peri lobster recipe for the EGG; Peri Peri powder might be a little hard to find but it has a unique flavor. I used Robertson's Peri Peri powder, but you can also buy it on at Peri Peri powder Africanhut.com. Peri Peri combines unmistakable flavor with a kick of heat!"
Ingredients
4 medium lobster tails

Juice of 3 lemons

1 clove of garlic, minced

1 tbsp olive oil

3 tbsp salted butter

½ tsp Peri Peri powder

½ tsp salt

1 tsp white wine vinegar

2-3 cups cooked white rice

Instructions
Set the EGG for direct cooking without the convEGGtor at 375°F/191°C.

For the Peri Peri sauce: Oil a Stir-Fry and Paella Pan with the olive oil; place on the grid and add garlic. Stir the garlic for 1-2 minutes. Add the lemon juice until hot but not boiling. Add the butter, Peri Peri, salt and the white wine vinegar (½ tsp of Peri Peri is quite spicy, adjust that amount to taste).

For the lobster: Clean and butterfly the lobster tails, baste with ¼ of the sauce.

Place the lobster on the EGG meat side down for 8 minutes, basting throughout.

Remove the lobsters from the shells and serve over rice; drizzle with remaining Peri Peri sauce. 

---