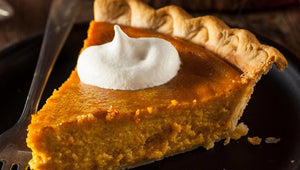 PUMPKIN PIE
---
Ingredients
1 (8oz) package of cream cheese, softened
2 cans pumpkin, mashed
1 cup sugar
1/4 teaspoon salt
1 egg plus 2 egg yolks, slightly beaten
1/2 cup half-and-half
1/4 cup (1/2 stick) melted butter
1 teaspoon vanilla extract
1/2 teaspoon ground cinnamon
1/4 teaspoon nutmeg
2 regular size pre-made pie dough crusts in foil pans
Whipped cream, for topping
Method
Set the EGG for indirect cooking at 350°F.
Poke all around the crust with a fork and bake for approximately 10 minutes or until each crust is dried and beginning to color.
For the filling, in a large mixing bowl, beat the cream cheese with a hand mixer.
Add the pumpkin and beat until combined.
Add the sugar and salt, and beat until combined.
Add the eggs mixed with the yolks, half-and-half, and melted butter, and beat until combined.
Finally, add the vanilla, cinnamon, and nutmeg. Beat until incorporated.
Pour the filling into the warm prepared pie crusts and bake for 50-60 minutes, or until the center is set. 
Place the pie on a wire rack and cool to room temperature. Place in refrigerator overnight to help the pie set.
---