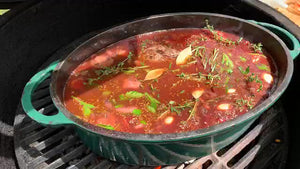 RED WINE BRAISED SHORT RIBS
---
INGREDIENTS
3-4lbs Bone-in Beef Short Ribs
Blues Hog Bold & Beefy Seasoning
4 tablespoons unsalted butter
2 medium onions, chopped
3 medium carrots, peeled, chopped
2 celery stalks, chopped
3 tablespoons all-purpose flour
2 tablespoons tomato paste
1 package Sliced Mushrooms
1 15oz can stewed tomatoes
1 750 ml bottle Cabernet Sauvignon)
10 sprigs flat-leaf parsley
8 sprigs thyme
4 sprigs oregano
2 sprigs rosemary
2 fresh or dried bay leaves
1 head of garlic, peeled and smashed
4 cups low-salt beef stock
METHOD
Heat Big Green Egg to 450° direct.
Season short ribs with Blues Hog Bold & Beefy seasoning.
Brown all three sides of short ribs (about 2 minutes each side). Transfer short ribs to a plate. 
Melt butter in an enamel-coated Dutch oven. Add onions, carrots, and celery to pot and cook, stirring often, until onions are browned, about 5 minutes.
Add flour and tomato paste; cook, stirring constantly, until well combined and deep red, 2-3 minutes.
Stir in wine and bring to a boil and simmer for about 15 minutes.
Add all herbs to pot along with garlic.
Stir in beef broth and add short ribs. Make sure they are fully covered. Bring to a boil and cover.
Reduce temperature to 350.
Cook until short ribs are tender, about 2 ½ - 3 hours. Transfer short ribs to a platter.
Strain sauce from pot into a measuring cup. Reserve stewed veggies as a side dish.
Spoon fat from surface of sauce and discard; pour the sauce into a saucepan and season sauce to taste with salt and pepper.
Mix ½ cup of sauce with 2-3 tsp corn starch until all clumps are gone and add to saucepan.
Cook on medium heat until desired gravy consistency.
Serve over mashed potatoes with gravy poured over the top. 
---