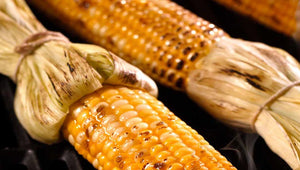 ROASTED CORN with COTIJA CHEESE & CHIPOTLE BUTTER
---
Butter is laced with chipotle chiles – dried smoked jalapeño peppers – then used to baste this corn on the cob as it roasts right on the grid. Peeling back the husks and tying them with butcher's twine makes for easy basting and a playful presentation.
INGREDIENTS
4 ears corn
8 tablespoons unsalted butter, at room temperature
2 tablespoons chopped dried chipotle chiles
¼ teaspoon kosher salt
½ cup crumbled cotija cheese or feta cheese (2 ounces)
¼ cup finely chopped fresh cilantro
1 fresh lime, cut into quarters
METHOD
Set the EGG for direct cooking with the convEGGtor at 400°F.
Place the corn into a large pan and cover with cold water. Let soak for 1 hour.
Pull the husks back from each ear of corn and tie them into a bundle with butcher's twine. Completely remove the silk from each ear. Combine the butter, chiles and salt in a Cast Iron Sauce Pot and mix well. Using a knife or small spatula, spread 1 tablespoon of the butter evenly over each ear.
Place the corn on the grid with a piece of aluminum foil under each husk to prevent the husks from burning. Add the sauce pot to the EGG until the butter melts. Roast the corn for 6 minutes, basting the corn with the chipotle butter and turning every 2 minutes. Continue grilling for 6 more minutes, or until the corn is tender.
Transfer the corn to a platter and coat with more chipotle butter. Sprinkle with the cheese and cilantro. Serve immediately with lime wedges.
Serves 4
---