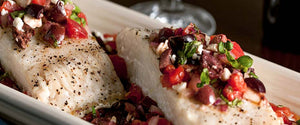 ROASTED HALIBUT WITH GREEK RELISH
---
Ingredients
2 (14.5 ounce) cans of Red Gold® Petite Diced Tomatoes, drained




1⁄4 cup extra virgin olive oil




3 cloves garlic, minced




1⁄2 tablespoon kosher salt




10 fresh basil leaves, chopped




10 ounces Kalamata olives, slices 1⁄4 inch




1 small red onion, diced




3 ounces feta cheese, dry




2 tablespoons red wine vinegar




2 tablespoons canola oil, or salad oil of choice




2 pounds fresh halibut filets




Kosher salt and freshly ground black pepper to taste



Instructions
For the relish, blend all ingredients, except the halibut, together and refrigerate for a few hours.




Set the EGG for indirect cooking (with convEGGtor) to 400°F/204°C.




Season halibut filets lightly with salt and black pepper.




Place seasoned halibut on EGG and roast for 8-10 minutes or until the fish just begins to flake.




When fish is almost done, place a small amount of the tomato relish on top of the fish and allow to warm through.




Remove fish from heat and place it on a small pile of the tomato relish allowing the heat of the fish to warm the tomato relish through. Serve warm.



Makes 6 servings
---