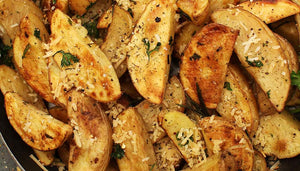 Roasted Potato Wedges on the Big Green Egg
---
Set the EGG for indirect cooking with the convEGGtor at 400°F/232°C.
Add potatoes to a bowl with olive oil, garlic, rosemary, and 2 tbsp Big Green Egg Citrus & Dill seasoning. Toss until combined.
Spread potato wedges evenly onto a Big Green Egg Half-Moon Perforated Grid. Place on the EGG and roast for about 20 minutes. Turn the potatoes. Continue roasting until potatoes are golden brown and crisp, about 15 minutes
Remove the potatoes from the EGG. Top with parmesan cheese, 1 tbsp Big Green Egg Citrus & Dill Seasoning, black pepper, and parsley. Serve immediately.
2 lbs. russet or Yukon Gold potatoes, peeled and cut into wedges
2 tbsp kosher salt
4 tbsp extra-virgin olive oil
1 medium garlic clove, minced
2 tbsp minced rosemary
3 tbsp Big Green Egg Citrus & Dill Seasoning, separated
2 tbsp minced parsley
¼ cup grated Parmesan cheese
Freshly ground black pepper
---