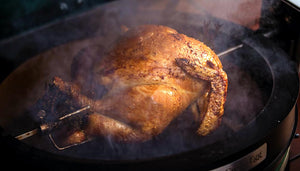 Rotisserie Turkey on the Big Green Egg
---
By cooking your turkey indirectly, you can make the most of all the gorgeous fats and juices that drip from the Rotisserie as it turns. A Drip Pan filled with veg collects all that flavorsome drizzle, providing the base for a perfect turkey gravy.
SET UP YOUR EGG
Set the EGG for direct, rotisserie cooking at 350ºF/180ºC.
Place the Rotisserie Ring on the EGG and plug in the motor.
Load and light the EGG.
Set up your EGG for indirect rotisserie cooking, with the Rotisserie ring in place and the motor unit plugged in. Load and light the EGG for rotisserie cooking. Once up to temperature, place the Multi-Level Grid upside down, with a Baking Stone on top.
Make sure the giblets are removed from the turkey, then pat the skin dry. Remove the top fork from the Rotisserie spit. Place the turkey on the spit, threading from the rear to the neck. Securely skewer the bird onto the bottom fork, making sure there are no loose limbs. Return the top fork to the spit and push it into the turkey. Make sure the bird is placed in the centre of the spit, allowing it to turn in the rotation grooves. Tighten the wing screws.
You can now add your mixture of herbs into the turkey's cavities at each end of the bird. These will give the turkey a robust herby flavour when they burn.
COOKING INSTRUCTIONS
Roughly chop the vegetables for the gravy, add to the Drip Pan, half-fill it with water, then add the bay and rosemary. Place onto the ConvEGGtor.
Cover the turkey all over with oil. With EGG Mitts on, place the spit into the motor.
Turn on the motor and watch the bird rotate. After a full rotation, check that the turkey is secure, season evenly with salt as it turns, then close the Dome.
If the Drip Pan gets too dry, add a splash of water.
6 sprigs of rosemary
Handful of sage
4 bay leaves
Handful of thyme
Olive Oil
Sea Salt
9-14lb turkey (9-11lb for a large EGG, up to 14lb for an XL)
---