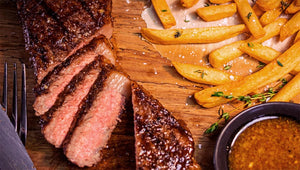 SEARED NEW YORK STRIP STEAKS
---
It's 2020 and things are going to be different this year. Start the #Spring off right with a perfectly seared New York strip steak. This steak recipe is easy to make and finished with a lightly spicy and sweet glaze that emphasizes the deep beef flavor of the steaks. 
INGREDIENTS 
4 New York Strip Steaks, 2-inch thick
Kosher Salt to Taste
Freshly Ground Black Pepper to Taste 
Horseradish Glaze
3 tbsp. Dijon Mustard
2 tbsp. Honey
1 tbsp. Prepared horseradish, radish 
METHOD
30 to 45 minutes before you start cooking, generously salt the steaks and let them rest on a rack over a baking tray, in the fridge, or on the counter. 
While you're waiting for the steaks, make the glaze and set it aside. Whisk together the mustard, honey, and horseradish. 
Lift the grids to the upright position (Prestige/PRO models) and preheat your infrared sear station to high and your main cooking area to low, 300 to 325°F, preparing to use indirect heat. 
If you don't have an Infrared SIZZLE ZONE sear station, preheat two side-by-side main burners to high, 500 to 600°F, leaving the other two off.  
Season the steaks with freshly ground pepper, then sear them over direct heat for 1 minute, turn them 45° and continue cooking for 1 minute. Flip the steak and repeat, 1 minute, 45° and one more minute. 
Remove the steaks from the SIZZLE ZONE and place them onto the main cooking grids. Using indirect heat, cook the steaks until they reach your desired internal temperature.
If you are using the main cooking grids for your grill, turn down the lit burners and move the steaks that are searing to the "off" side of the grill to finish cooking. Rare – 140°F, Med-rare – 145°F, Med – 150°F, Med-well – 155°F
During the last few minutes of cooking, brush generously with the horseradish glaze. 
Rest the steaks for at least 5 minutes before serving with your favorite seasonal side dishes. 
---