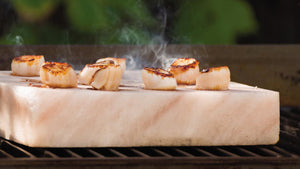 SEARED SCALLOPS ON A HIMALAYAN SALT BLOCK
---
Ingredients
¼ cup fresh lime juice 

¼ cup Thai fish sauce 

1 tablespoon rice wine vinegar 

2 tablespoons toasted sesame oil 

1 garlic clove, minced 

1 minced hot chile pepper stem and seeds removed

¼ cup finely shredded carrot 

1 ¼ pounds large sea scallops (about 16) 

½ teaspoon freshly ground black pepper 

Instructions
Place the salt block over low heat on a grill or stovetop for 10 minutes. Turn the heat to medium and heat for 10 more minutes. Raise the heat to medium-high and heat the block to about 500°F for about 20 more minutes.

To make the dipping sauce, mix the lime juice, fish sauce, ¼ cup water, vinegar, sesame oil, garlic, chile pepper, and carrot; set aside.

Pat the scallops dry and pull off the small white muscle on the side of the scallop if not already removed. Season the scallops with the black pepper and let stand at room temperature until the salt block is hot.

When the salt plate is ready, brush generously with oil before placing the scallops on the plate.

Sear until browned and springy to the touch but still a little soft in the center, about 3 minutes per side. Work in batches if your salt block cannot comfortably fit all the scallops at once.

Transfer scallops to a platter or plates and serve with the dipping sauce.

---