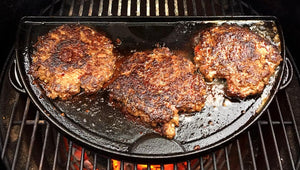 SMASH BURGERS
---
Ingredients
1 lb ground beef chuck (80/20)
1 tbsp garlic powder
Salt and pepper to taste
8 slices of cheddar cheese, optional
Method
Set the EGG for direct cooking at 400°F with the Big Green Egg Cast Iron Plancha.
Season the beef with garlic powder, salt and pepper. Roll beef into 8 – 2 oz. balls.
Place 4 balls on the plancha, close the lid and wait 30 seconds. Open the lid and smash the balls with a spatula until they are about a 1/2 inch thick. Cook 2 minutes. Flip the burgers and cook another 1 minutes. Put cheese on the burger and wait another 30 seconds, until the cheese is melted. Repeat with the remaining balls.
Top with your favorite toppings.
---