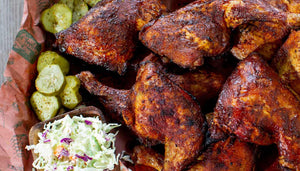 Smoked BBQ Chicken on the Big Green Egg
---
Set the EGG for indirect cooking with the convEGGtor at 275ºF/135ºC with Apple Smoking Chunks.
Rub the chicken with olive oil and liberally season with the Big Green Egg Savory Pecan Seasoning.
Place on the EGG and smoke for about 45 minutes to an hour or until the internal temperature reaches 145ºF/62ºC.
Baste the chicken with the Big Green Egg Sweet & Smoky Kansas City Style Barbecue Sauce.
Cook for another 20 to 30 minutes.
Remove the chicken from the EGG once the internal temperature reaches 160ºF/71ºC.
Let cool for at least 15 minutes.
Serve with your favorite sides.
5 lbs. quartered chicken
Big Green Egg Savory Pecan Seasoning
2 tbsp olive oil
Big Green Egg Sweet & Smoky Kansas City Style Barbecue Sauce
---