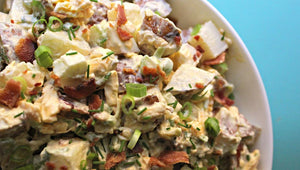 SMOKED POTATO SALAD
---
Ingredients
2 pounds Yukon Gold potatoes, washed and dried
2 eggs
1 cup bacon grease, softened, not melted
½ lb. bacon, cooked and diced
Big Green Egg Citrus & Herb Seasoning
½ cup yellow onion, diced
1 tbsp apple cider vinegar
1 tsp salt
1 tsp pepper
2 tbsp yellow mustard
2 cups mayonnaise
2 stalks of celery, chopped
1 tbsp chives, chopped
Method
Set the EGG for indirect cooking with the convEGGtor at 225°F/107°C.
Cover the potatoes completely with warm, soft bacon grease and the Big Green Egg Citrus & Herb Seasoning. Puncture each potato several times. Place the potatoes and the 2 eggs on the Big Green Egg and cook for 2 hours, or until the potatoes are tender in the center. Put the eggs in an ice bath after removing from the EGG.
While the eggs and potatoes are cooking, mix together the onion, vinegar, salt, pepper, mustard, mayonnaise, and celery.
Once cooled, dice the eggs and potatoes and mix with the rest of the ingredients. Top with the chives and enjoy!
---