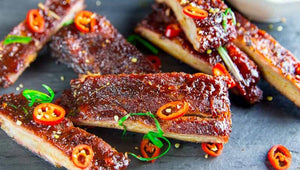 SMOKEY SPICY KOREAN SPARE RIBS
---
This recipe comes courtesy of theBBQBuddha. Sweet and Savory with just the right amount of heat, this recipe for Smoked Spicy Korean Spare Ribs is so delicious you'll wish you the supply was endless.
Ingredients
½ cup gochujang
¼ cup hoisin sauce
¼ cup ketchup
¼ cup honey
¼ cup soy sauce
¼ cup Korean rice wine
1 tablespoon unseasoned rice vinegar
2" piece fresh ginger (finely gated)
3 cloves of finely grated garlic
1 tablespoon ground white pepper
2 racks pork spareribs, membranes removed
Salt and Pepper for the rub
Instructions
Mix all the ingredients together except the ribs and salt, pepper.
Set the BBQ sauce in the refrigerator.
Remove the membrane from the ribs and trim excess fat.
Cover the ribs in a salt & pepper mix or use Sucklebusters SPG rub.
Light the Big Green Egg and set temp to 250°.
Add a chunk of hickory wood.
Place the plate setter in the BGE for indirect cooking with a drip pan full of water.
When you see the thin blue smoke coming from the BGE it is time to put in the ribs (bone side down).
Cook the ribs at 250° for 3 hours.
Pull the ribs out and place them meat side down on a sheet of aluminum foil.
Place pats of butter and add a ¼ cup of liquid (I used beer for this cook).
Cover the ribs in the foil and place back in the BGE for an hour.
Remove the ribs from the foil, raise the temp in the BGE to 300°.
Glaze the ribs with the Korean BBQ sauce and place them back in the BGE for an hour.
When you see the meat pull from the bone it is time to remove them and serve.
---