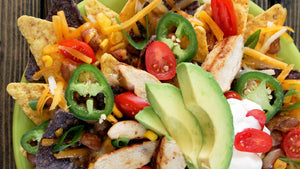 SMOKY GRILLED CHICKEN NACHOS
---
The combination of fresh ingredients and chicken cooked on the EGG creates the perfect flavorful and shareable dish.
Ingredients
5 Mesquite Grilled Chicken Breasts
2 cups cheese, shredded
1 cup corn
1 cup pinto beans
1 teaspoon black pepper
1 teaspoon creole seasoning
1 teaspoon garlic powder
1 teaspoon onion powder
½ teaspoon oregano, crushed
1 tablespoon extra virgin olive oil
Method
Mix seasoning blend and set aside.
Set EGG for indirect cooking at 350°F/177°C.
Place marinated chicken in a bowl, drizzle with olive oil.
Sprinkle half the seasoning blend on chicken and mix well.
Place chicken on the cooking grid and cook 4-5 minutes per side. Remove chicken from EGG and rest before slicing. While chicken is grilling, rinse, drain, corn and beans.
Place ½ tablespoon of olive oil into a skillet over medium heat, add corn and beans, season with remaining seasoning blend, sauté for about 5 minutes.
Assembly Ingredients
blue corn chips
yellow corn chips
jalapenos, sliced
tomatoes, diced
avocado, diced
green onions, sliced
sour cream
Assembly Instructions
Place chips on a round pizza pan, top with bean and corn mixture, cheese, and chicken. Place on the cooking grid and cook for 2-3 minutes, until cheese melts. Top with remaining ingredients.
---