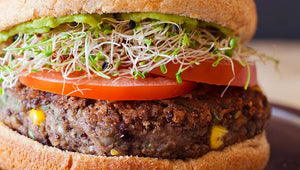 SPICY BLACK BEAN BURGERS
---
Recipe adapted from spoonforkbacon.com
This is a flavor-packed spicy black bean burger, studded with corn (because corn is awesome) and loaded with spices. These burgers are great, but still rather soft and delicate and should be handled gently while cooking them. You can enhance them with just about any topping and condiment of your choice, plus they're super easy to make and really fill you up.
INGREDIENTS
Burger Patties:
1/2 yellow onion, chopped
1 jalapeno, seeded and chopped
3 garlic cloves
1 (14.5 ounce) can black beans, drained
½ cup plus 2 tablespoons rolled oats
1 ear yellow corn, kernels and milk removed from husk
1 green onion, thinly sliced
2 teaspoons cumin
1/2 teaspoon curry powder
¼ teaspoon cayenne pepper
1/4 cup plain breadcrumbs
salt and pepper to taste
3 tablespoons vegetable oil
4 whole wheat burger buns
Optional Toppings:
sprouts
tomatoes
guacamole
avocados
cheese
lettuce
onions
caramelized onions
ketchup
mustard
mayonnaise
pickles
METHOD
Place onion, jalapeno, and garlic in a food processor and pulse 5 or 6 times.
Add beans, oats, corn, green onion, cumin, curry powder, and cayenne. Season with salt and pepper and pulse 8 times. Scrape downs sides of the bowl and pulse an additional 5 to 8 times (depending on desired texture).
Place mixture into a mixing bowl, cover with plastic wrap and place in the refrigerator for at least two hours.
Remove chilled mixture from refrigerator and stir in breadcrumbs. Adjust seasonings.
Set up your EGG for direct grilling at 375°F with a cast iron skillet.
Pour oil into your cast iron skillet and place on the grate. Form mixture into four equal patties. Cook patties for 5 to 7 minutes on each side or until a crust develops and the patties are heated through.
Remove patties from heat and place onto burger buns. Assemble burger with toppings and condiments of your choice and serve.
Serves 4
---