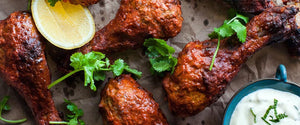 TANDOORI CHICKEN
---
Recipe adapted from Recipetineats.com.
Ingredients
Marinade
1½ cups plain yoghurt (full fat is best)

2 tbsp oil (any)

½ onion (brown, yellow, white)

1½ tbsp lemon juice

2 tsp ginger, grated

5 garlic cloves, minced

3 tsp garam masala spice mix (Note 1)

1 tsp turmeric powder

2 tsp cumin

2½ tsp coriander powder

2 tsp cayenne pepper

2 tsp paprika (preferably smoked)

¾ - 1¼ tsp salt

Black pepper

Few drops red food colouring (optional) (Note 2)

Chicken
8 chicken drumsticks (about 1.2 kg / 2.4 lb)

Oil spray

Mint Yoghurt (optional)
¾ cup plain yoghurt

2 tsp fresh mint, finely chopped

Lemon juice

Salt and pepper

Olive oil

Instructions
Place all the Marinade ingredients in a food processor and whizz until smooth. (Note 3) Pour into a ziplock bag with the chicken and marinate for at least 3 hours, preferably overnight.

Preheat your EGG to 350°F.

Remove chicken from the Marinade, shaking off excess (reserve Marinade), and place on the grill. Bake for 15 minutes, then slather on Marinade (very generously), turn the chicken and slather Marinade on the other side.

Bake for a further 15 minutes or until you reach an internal temperature of 165°F.

Let the chicken rest for 5 minutes before serving with Mint Yoghurt. 

Optional: Garnish with cilantro/coriander leaves and serve with lemon wedges.

Mint Yoghurt:
Combine ingredients in a bowl and mix.

---