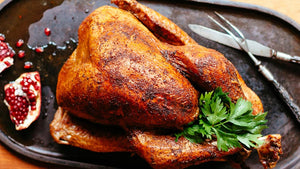 Thanksgiving Recipes & Techniques for the Big Green Egg
---
We're not sure when the first person decided to include the Big Green Egg in our November holiday tradition, but we do know that the EGG can make it a memorable Thanksgiving meal! If you have holiday entertaining on your schedule, look no farther than this collection of special holiday ideas.
The recipes are festive, yet simple, and with the EGG, outdoor entertaining requires so little effort that the host is free to relax with family and friends. The holidays are a time for celebrations, and the ease-of-use and versatility of the Big Green Egg allows you the opportunity to enjoy your guests, embrace the culinary experience and create wonderful memories of shared meals together.
As for that turkey, you can cook a whole one or just a breast. You can brine it, inject it and then roast it. Check out these turkey recipe options, get your Big Green Egg charcoal on hand and enjoy! And free up your oven for other food.
BRINED
This brined turkey has a subtle smoky flavor and is incredibly moist and succulent.
GET THE RECIPE
INJECTED
Two delicious recipes — Injected Cajun Creole Butter and Lemon Pepper & Herb.
GET THE RECIPE
ROASTED
A turkey roasted on the EGG is a simple, yet elegant centerpiece for your holiday meal.
GET THE RECIPE
These recipes will make you think differently about Thanksgiving sides and desserts – they make for a very modern feast of thanks.
Brussels Sprouts w/ Golden Raisins
These grilled brussels sprouts will change your mind about eating your veggies.
GET THE RECIPE
Candied Sweet Potatoes
Wonderfully caramelized, these sweet potatoes are sure to get rave reviews
GET THE RECIPE.
Plank-Roasted Pears & Blue Cheese
These can be served with a salad, as an appetizer or even a dessert.
GET THE RECIPE
Rosemary Yeast Rolls
Our Deep Dish Baking Stone is perfect for baked goods!
GET THE RECIPE
Chocolate Bourbon Pecan Pie
Perfect for a family fall dinner or winter holiday dessert!
GET THE RECIPE
Apple-Walnut Crostata
There are three types of apples in this crostata that make it taste delicious.
GET THE RECIPE
---