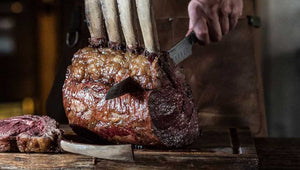 TOMAHAWK STEAKS
---
Would you like to prepare a large piece of meat on your Big Green Egg that will leave a lasting impression? An eye-catching tomahawk steak is just the thing. A tomahawk is a cut of beef with the rib still attached. Removing the bone would make it a ribeye steak. The bone of the tomahawk steak delivers an intense flavor experience and is quite impressive to look at. Buy your tomahawk steak from a good butcher and prepare it on the Big Green Egg for a perfectly juicy result.
INGREDIENTS
1 5-rib beef tomahawk
Sea salt
Freshly ground black pepper
METHOD
Ignite your EGG and heat, with the convEGGtor and the grid, to 275°F. Remove any skin from the tomahawk and scrape the ribs clean with a small knife, if necessary (or have the butcher do this).
Place the Rib & Roasting Rack in the Drip Pan and then place the tomahawk on it. Place the Drip Pan on the grid and insert the Dual Probe Remote Thermometer pen into the core of the meat. Set the thermometer to 115°F. Close the lid of the EGG and leave the tomahawk to cook for approximately 4 hours until the set core temperature has been reached.
Remove the Drip Pan with the Rack and the meat from the EGG. Remove the grid and use the Cast Iron Grid Lifter to place the Cast Iron Grid in the EGG. Heat the Big Green Egg to a temperature of 500°F. Cut between the ribs to divide the tomahawk into separate steaks.
Place the tomahawk steaks on the grid and close the lid of the EGG. Turn the meat a quarter turn after approximately 1 minute and close the lid again. Flip the meat after another minute, and repeat to create a lovely grill pattern on both sides.
Remove the tomahawk steaks from the EGG, and sprinkle with sea salt and freshly ground black pepper.
---