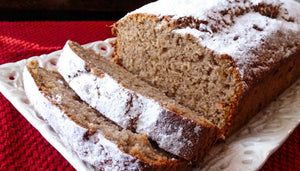 Victoria's Banana Bread on the Big Green Egg
---
Set the EGG for indirect cooking with the convEGGtor at 350°F/175°C.
Spray a large loaf pan (4x8) with Non-stick Olive Oil Spray
Mash the bananas with a spoon.
Mix in the melted butter.
Add the sugar, light brown sugar, and cinnamon, and mix
Add the egg and vanilla, continue mixing.
Sprinkle in the baking soda and salt, continue mixing.
Add the Flour (about ½ Cup at a time) and mix until you remove any clumps.
For "Elvis Bread", add the peanut butter chips and mix throughout.
Pour your mixture into the loaf pan evenly.
Sprinkle the cinnamon sugar mix on top of the mixture.
Bake for 60 Minutes.
Check with toothpick and if it comes out mostly clean then let bread rest for 20 minutes before cutting and serving.
For "Elvis Bread", after cutting you can drizzle your desired amount of honey and finish with a sprinkle of powdered sugar.
4 Bananas
1/3 Cup Butter (melted)
3/4 Cup Sugar
1/4 Cup Light Brown Sugar
Cinnamon to Taste (about 1 Tablespoon)
1 Egg (beaten)
1 Teaspoon Vanilla
1 Teaspoon Baking Soda
Pinch of salt (about 1 Teaspoon)
1 1/2 Cups Flour
Cinnamon Sugar Mix
(Elvis bread- ADD ½ Cup Peanut Butter Chips, Drizzle of Honey, Sprinkle of Powdered Sugar)
Non-stick Olive Oil Spray
---