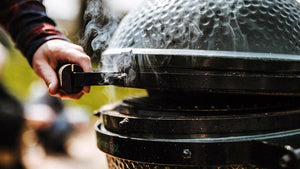 Why you should buy a Big Green Egg
---
In short, anything you can cook in your kitchen you can cook on a Big Green Egg – but with better results – be that a juicy roast chicken, perfectly seared steak, crispy brick-oven pizza, or a slow-smoked brisket. It's the complete outdoor cooking system that's engineered to be more versatile, more durable, and provide a better meal than any other grill or smoker on the market.
Grilling
Sear steaks, pork chops, burgers and seafood with a juicy, flavor-packed crust.
Put the perfect sear on your next steaks, pork chops, burgers and seafood for a flavor-packed crust unmatched by any other grill.
Smoking
Get yourself ready for melt-in-your-mouth brisket and fall-off-the-bone ribs.
There's nothing quite like the way a brisket melts in your mouth or a pork shoulder falls apart under your fork after a low n' slow cook.
Roasting
Poultry, beef, or ham – roasting is a fool-proof way to get mouth-watering results.
The EGG's natural design allows you to roast at stable, even temperatures for savory meat, poultry, and veggies with unmatched flavor.
Baking
The EGG can bake pizzas, casseroles, and desserts better than your kitchen oven.
With the EGG's ConvEGGtor and Baking Stone in place, you can achieve perfectly crisp pizza, crusty bread loaves, and flaky desserts with ease.
Woking
Wok cooking quick, easy, and fun to execute with flavor-packed results.
Wok cooking ensures your proteins cook quickly and vegetables retain their vibrant color and fresh flavor. It's quick, easy, and fun to execute.
Spit-Roasting
Slow-roasted meats... self-basted, crisp-edged, juicy and dripping with flavor.
Imagine slow-roasted chicken wings, brazilian-style picanha, and a golden Thanksgiving turkey... self-basted and dripping with flavor.
Big Green Egg was the first ceramic grill in the world to stand behind its product with a limited lifetime warranty — something they've continued for over 40 years. Your Big Green Egg will never rust, jam or wear out – because when you invest in a Big Green Egg, you're taking home the most popular, highest quality outdoor cooker ever made... and your taste-buds will thank you.
Lasts A Lifetime
At Outdoor Home, each Big Green Egg is built and inspected by a Certified EGGspert™ to be the highest quality product of its kind. We firmly stand behind this product and continue to offer best-in-class customer service and warranty support to our customers.
So when it comes to EGGin', we'll be here to answer all your questions, suggest recipes, provide tips, and talk EGG all day long.
All-Season Cooking
The heat-reflecting ceramics and simple shape of the Big Green Egg allows air to circulate around your ingredients, causing the food to cook evenly, retain moisture, and absorb flavor.
Luckily, a Big Green Egg kamado grill doesn't rely on cords, gas tanks, or moving parts that can freeze up or wear out. Your EGG is powered by 100% natural lump charcoal and fire – that's it.
The simple shape and ceramic construction of a Big Green Egg distributes heat evenly and keeps your food moist and flavorful, no matter what you're cooking. With this type of control you can be confident in tru "set-and-forget" cooking temperatures. From crispy, brick-oven Pizzas at 600° to melt-in-your-mouth Beef Brisket at 225°, there's nothing your Big Green Egg can't cook.
Quick & Easy to Start
Simply fill your EGG with lump charcoal, place a firestarter in the center, light it up, and you're off.
Once you're up to temp, add your cooking surfaces or baking stones to unlock multiple cooking styles and endless menu options.
When you're all finished, just shut those dampers all the way to cut off the airflow and save any leftover lump charcoal for your next cook!
Precise Temperature Control
With a Big Green Egg, setting temperatures is all about controlling the airflow. The bottom draft door allows oxygen to enter the firebox (fueling your lump charcoal) while the rEGGulator vent cap allows the spent oxygen to escape.
By adjusting these dampers, you can reach exact temperatures for any cooking method and have total control at your fingertips, maintaining accuracy within a few degrees!
An EGG for Every Lifestyle.
A Big Green Egg is the key to an entire lifestyle, with food, family, and friendship at its core. It's about preparing meals from scratch, cooking over live fire, trying new flavors, and spending time outside.
Whether you're cooking on the patio, in an outdoor kitchen, or at the tailgate party... With seven different sizes, there's a Big Green Egg for every scenario.
The Ultimate Cooking Experience.
Get everything you need to enjoy the full Big Green Egg-sperience with a package that includes your EGG, Nest or Table, ConvEGGtor, and other essentials so you can hit the ground running!
Have your eye on a different package? No problem! The beauty of a Big Green Egg is that you can customize your setup and EGGcessories "al-a-carte" for the perfect stack of tools and tables for your environment.
Enhance the EGGsperience!
Maximize flavor, texture, and presentation by using authentic EGGcessories designed specifically for the Big Green Egg.
From ceramic ConvEGGtors to Cast Iron cooking grids, each accessory will enhance your results and give you the flexibility to EGG-spand your creativity.
Outfit Your EGG
Our powder-coated steel IntEGGrated Nests and Standard Nests are solidly built to precisley fit the shape of your Big Green Egg and provide a sturdy cooking setup.
Upgrade your EGG's accommodations with a premium Acacia Hardwood Table, Modular Nest, or Cooking Island for a huge amount space to prepare your meals and safely store your accessories.
A Big Green Egg is the perfect grill for anyone that wants simple to use, versatile outdoor cooker that's built to last. As the top Platinum Level Dealer in the Midwest, Outdoor Home carries every size Big Green Egg and 200+ genuine Big Green Egg accessories. So, once you've nailed the basics (which we'll help you with by the way), you'll quickly enjoy the Ultimate Cooking Experience!
---